Revelation 13:18 NIV
- This calls for wisdom. Let the person who has insight calculate the number of the beast, for it is the number of a man. That number is
666.
I found something interesting a while ago and thought I would share. I tried to talk to my father about it but based on many conversations and arguments I think most who are JWs but not in "our" position will fail to understand.
Below is a blog I regularly read. It's my go to for news.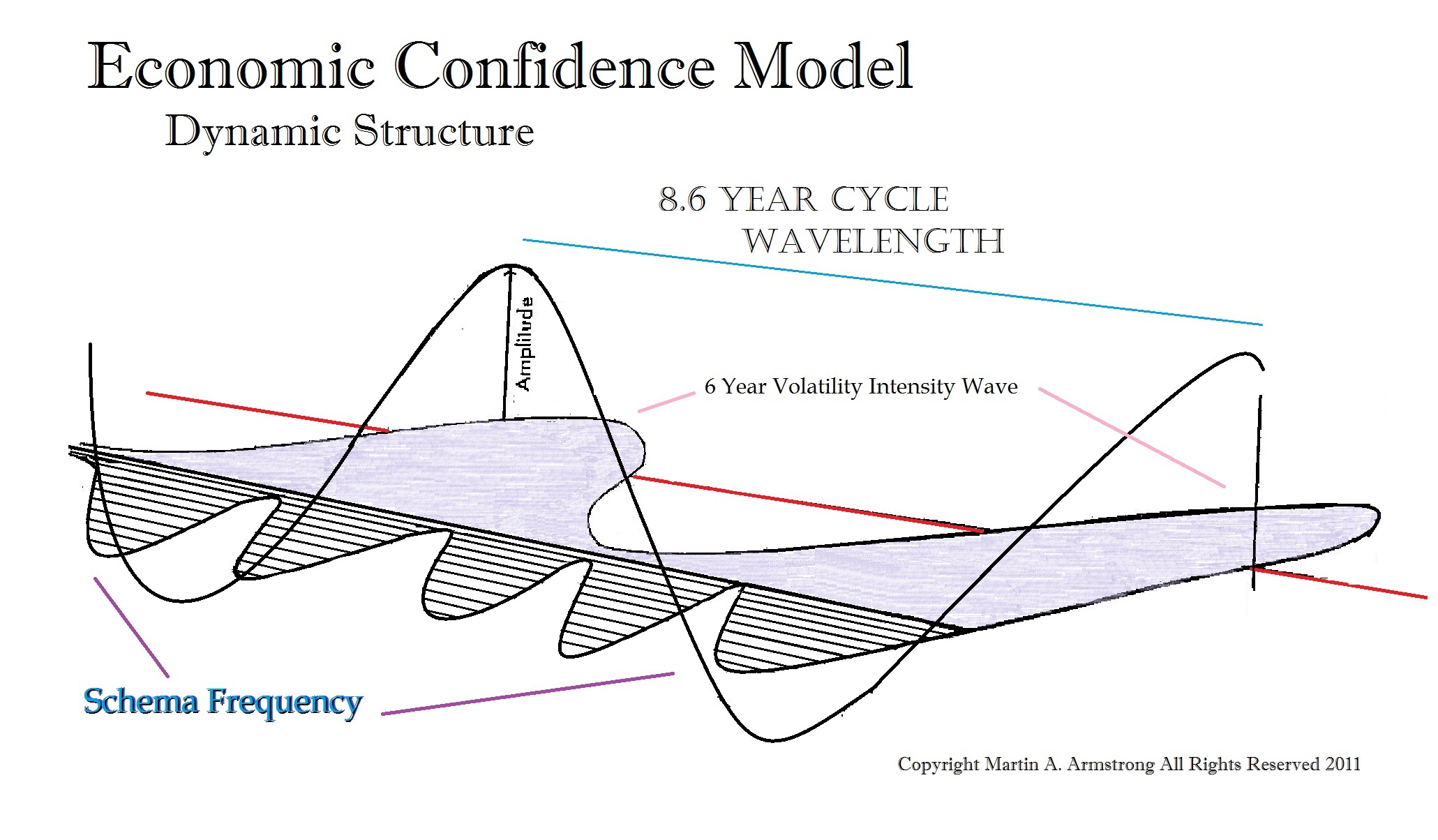 QUESTION: Dear Mr. Armstrong,
www.armstrongeconomics.com
Caveats: I realize that he's not 100% accurate and despite what he says there is human bias. When asked about his view on God, he always sidesteps the question but loves to quote the Ten Commandments saying "Do not covet your neighbors belongings". But I agree in general about his "Economic Confidence Model".
Few things I really like about his site:
I use the Brave browser, which does a fantastic job of blocking everything by default. Of ALL the site I have visited, there are two sites on the internet with little to no Brave Shield blocks of any kind.
-JW.org site
-Armstrong Economics Site
The super basic Google.com has 8, and Google.ca has 11. Since I grew up with computers I appreciate a site being honest.
Now back on topic:
Please pay attention to the following image from the site
Summary of the Economic Confidence Model. Six waves of 8.6 year cycles combine into a single 51.2 year cycle. Six waves of 51.2 year cycles combines into 309.6. Six of 309.6 is 1857.6. I said
pay attention.
The above is his Economic Confidence Model combined with Schumpeter's Waves of Innovation. Schumpeter in short is an economist that found waves of economic cycles.
"for it is the number of a man. That number is
666
." You see these are waves of economic cycles, but because it combines data from so many sources, it eerily tracks almost every human activity, since face it, most are monetary transactions. And cycles exist, because everything is orderly. You rise with the sun and sleep when it sets.
Again don't pay attention to the exact number, since I don't wholly agree with it. But in general I do. I have noticed cycles that are roughly 4 years when trying to go into a stock market(among other reasons), and 4 years coincides with 4.3, which is half of 8.6.
Then the revelation struck me. This guy, somehow found likely the true meaning of the "Man's Number". ECM+Schumpeter's cycle shows the pattern of Satan's world. It crashes
every
six cycles. And we're at the end of the near 2000-year cycle. And it will crash as well. But this time it'll be the crash to end all crashes. And we know why it crashes, because we need the 7, which is living in harmony with Jehovah God.
The satanic world does not do a good job of hiding it at all. But it's so obvious to those that are awake. Like they are behind a
veil.
Covid hysteria:
-Six foot distancing
-Six weeks to something
Vast majority of modern women in western countries about their ideal partner:
-Six foot or higher
-Six figure income
-Six inches
Unconciously we do similar things as well. Like a company I watch talked about Six things they need to do for a foundation. Or even like among the freedom group they talked about Six points for basic human rights and such.
Last edited: